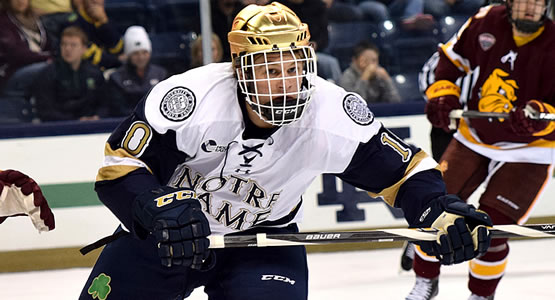 Anders Bjork, C/LW

Shoots: L

Height: 6-0

Weight: 187

Born: 1996-08-05

Hometown: Mequon, WI

Drafted: 5th round 2014 (146th overall)
Observations:
September 2017 – There are rumblings that Bjork will be a first line winger to start the season. Draft and add accordingly. Mike Drover
September 2017 – There isn't a player in the Bruins organization who's stock is rising faster than that of Anders Bjork. Earlier this year, Bjork seemed destined for another year or two of seasoning in the minors, however, Bjork has taken a few quick steps forward in development and is now leading the charge for playing time this October. Bjork's value will depend on his deployment, but I'd be looking to pick him up in deep leagues at this point. Mike Drover
June 2016 – The former fifth-rounder for the Boston Bruins has proven to be fantastic value. Bjork, who posted career highs in goals (21) and assists (31) has enjoyed a successful stay with the University of Notre Dame. Bjork was selected as a Hockey East All-Star, a Hobey Baker finalist, and took his Fighting Irish to the Frozen Four for the first time since 2011. Bjork signed a three-year ELC with the Bruins and should report to Providence in September to start his pro career. For fantasy purposes, Bjork has been a solid plus/minus contributor throughout his college career and has scored at almost two points per game, which is significant in the NCAA. Bjork isn't overly large and won't throw his body around much. Don't expect much from Bjork in multi-cat leagues that count hits, blocks, or PIMs. It's going to be tough for Bjork to crack the lineup in Boston this season barring significant injuries, but if all goes well in Providence, we may see him making spot starts in 2018. Mike Drover
March 2017 – Bjork's development has continued in a strong upward trend. Bjork not only scored more than a point-per-game this year for Notre Dame (19g, 28a) but is also a top 10 finalist for the prestigious Hobey Baker award. While Bjork is not a household name right now, winning the Hobey Baker will quickly change that. Regardless if he wins or not, it seems as though the Bruins made a solid late round pick here. Michael Drover
December 2015 – Bjork has been named to the USA's World Junior Championship team. His game has taken a big step forward this year, his second with Notre Dame, and he is now one of the leaders on the club. Bjork is a speedy forward whose game is well suited for the larger international ice - no one should be surprised if he has a strong tournament in Finland. Michael Boeckler
He needs to add more size to his frame and more grit to his game, but Bjork has the speed, offensive smarts and playmaking ability to potentially be a strong player in the NHL. If all goes well, he could be a second-liner.
Footage:
Bjork at the 2014 at Boston Bruins Development Camp
Buy the latest Fantasy Prospects Report here.