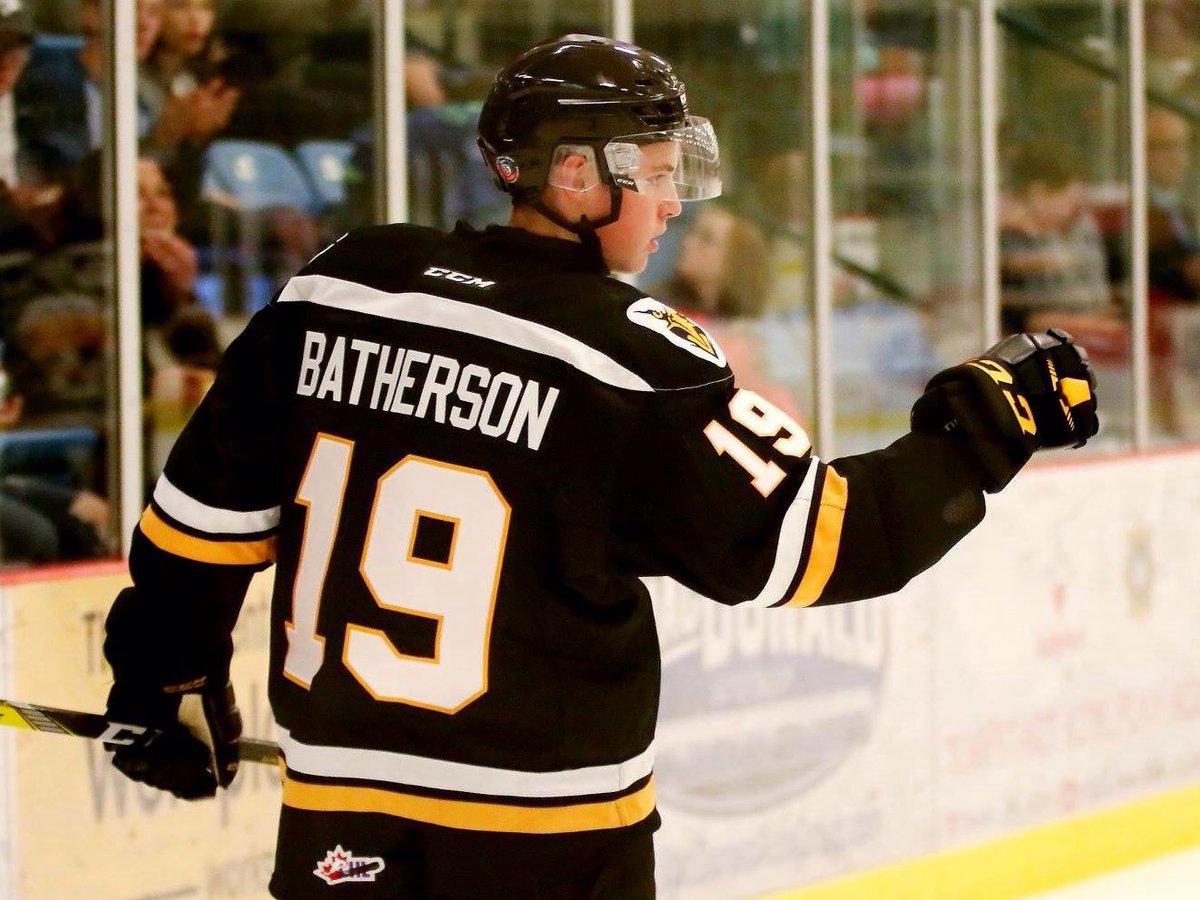 Observations:
January 2018 - It's been quite a week for Batherson. Despite not being named to the summer development camp roster, usually a good indicator of who will be on the final team, Batherson forced his way onto the 2018 edition of team Canada for the world juniors thanks to an exceptional first half and left his mark in a big way. He lead Canada with seven goals in as many games, including a hat trick in the semi-finals against the Czech Republic, and was tied for second overall. As a result he was named as one of the top three players on Canada. To cap things off Batherson is bringing home a gold medal. The day after defeating Sweden Batherson was shipped off to league leading Blaineville-Boisbriand for the stretch run. Brad Phillips
October 2017 – For the second year in a row the Senators used a fourth round pick to select a player in their second year of eligibility, taking Drake Batherson of the Cape Breton Screaming Eagles. There's a bit of history between the Senators and the Batherson family as Drake's dad Norm spent a year in the organization and his uncle is former Senator tough guy Dennis Vial. He didn't play in his first QMJHL campaign until he was 18 but the results were impressive, with 22 goals and 36 assist in 61 games and another 12 points in 11 post-season games to lead the Screaming Eagles. He has also gone through a significant growth spurt in recent years, shooting up eight inches since his minor midget season. Batherson packs a solid offensive punch in his game. Brad Phillips
Sens brass was betting on Batherson being a late bloomer and they look like geniuses in the early going as this selecting is looking like pure gold at this point in time. 13 games into the QMJHL season, Batherson sees himself sitting atop the league leaders in scoring with 28 points,16 goals and a league best 2.00 points per game en route to earning the most recent QMJHL player of the week honours as well as an entry-level deal from the Senators. He's been a one man wrecking crew for the Screaming Eagles having a hand in 47% of the team's offence and outscoring his next closest teammate by a whopping 16 points. To top it off, Batherson has registered a point in every game this season and has 12 points in his last three games.
Clearly packing an offensive punch, Batherson has made some significant strides in improving his skating over the past couple years but still has some room for improvement on the defensive side of the game. It may be early, but Batherson is already looking like the steal of the 2017 draft.
Brad Phillips
Fantasy Outlook: B
Middle-six goal scorer and puck distrubtor
Footage:
Development camp scrimmage highlights
At 0:41 Batherson fires home a clapper
Buy the latest Fantasy Prospects Report here.